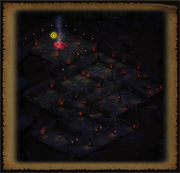 Abandoned Cellar dungeon your character can enter at level 30.
You can access this instance 5 times a day regulary.
There are 2 bosses - Roderick and Madelyn.

Dungeon Access
Edit
If u want to solo this dungeon, talk to Niki in Arbor Valley (x:256 y:49).
If u want to go with a group, you can open the Team Finder and join an existing one or start your own.
Select one of 4 difficulties: Easy, Hard, Elite or Heroic. The Heroic difficulty is only available to characters that are level 70 and above.
Loot by Grade
Edit
The following items drops on a random basis from the two bosses in this dungeon on Easy, Hard or Elite difficulty. The quality and the amount of the items dropped increases with the difficulty.
Easy/Hard/Elite Difficulty
Edit
Grade B Items
"

Gale

" armor pieces (Knight)
"

Nymph

" armor pieces (Hunter)
"

Chaos

" armor pieces (Mage)
"

Ruler's

" armor pieces (Priest)
Lv 35 accessories:

Void Ring
Grade A Items
Edit
Shattersoul

armor pieces or

Suppressor's Set

blueprints (Knight)

Tiger

armor pieces or

Rebel's Set

blueprints (Hunter)

Disintegration

armor pieces or

Conjurer's Sigils

blueprints (Mage)

Archon

armor pieces or 

Dusk Set

blueprints(Priest)
Lv 35 accessories:

Wild Rose Pendant

,

Shadow Ring

(all classes)
Misc Items
Edit
Bag of Coins I

(1,000 coins)

Bag of Coins II 

(5,000 coins)
Heroic Dificulty
Edit
Lvl 70 Blueprint Materials
Edit
Arcane Pendant
Dirty Armor
Dull Earrings
Elven Hair
Exquisite Cloth
Magic Flute
Magic Harp
Slender Bone

Dark Crystal

Sage's Soulstone

 (from boss)
Undead Belt

[Knight]

Windchaser Belt

[Hunter]

Dimension Sash

[Mage]

Timerift Sash

[Priest]
Lv 70 Set Blueprints (Feet slot)
Edit
Ironwill Boots

 [Knight]

Skyshadow Boots 

[Hunter]

Soulmate Sandals

 [Mage]

Immortal Sandals

 [Priest]
Miscellaneous
Edit
1-star Harpy

 pet satchel (unbound item)

Transmutation Stone I

 (from dungeon bosses)