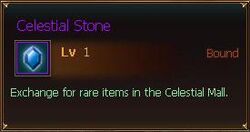 Celestial stones are used as in-game currency for purchasing items in the Celestial Mall. They can be obtained by participating in in-game events like Warrior's Trial and Derby Race.
Unlike other currencies such as coins, cash or vouchers, celestial stones are actual items that can be kept in your Bag or Warehouse.
To be able to buy items at the Celestial Mall, make sure to click "Use" on all Celestial Stones in your bag or warehouse. They will be added to your Celestial Stones count at the Celestial Mall menu.
Obtaining Celestial Stones
Edit
Participate in the following events:
Stage 135 rewards
Stage 150 rewards
2. Derby Race
Gold Pack
Silver Pack
Bronze Pack
Consolation Pack
3. Seasonal Events
Spending Celestial Stones
Edit
You can spend your Celestial Stones by visiting the Celestial Mall found by pressing the Mall hotkey (H) and then clicking on the Celestial Mall tab at the bottom.
Each tab found on the top features several items which you can purchase using your Celestial Stones. The full list of items available can be found at the Celestial Mall page.