Race against other players by pressing combination of the letters J, K, I, L to get ahead. All players receive a prize at the end of the race. Levels 30-110.
Event Access

Edit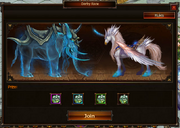 From the Events menu (shortcut key: U), go to Page 2 and click on the small curved arrow to open the Registration Interface screen (see the pictures to the right.)
To register for the event, make sure you are riding a mount and that you have at least 30,000 coins and then press the "Join" button.
Event Details
Edit
Daily Attempts: 3 (30,000 coins entry fee per attempt)
You must ride a mount to participate in the event and have sufficient coins (before clicking "Join").
The Race Begins at (Server Time):

10:00 - 11:00
15:00 - 16:00
21:30 - 22:30

Level Requirement: 30-110

The final ranking in the race is determined according to each player's speed, expressed as a score. A player's speed score is based on 2 elements:
The player's Movement Speed (MS) bonus (the mount's "Ride" bonus + MS bonus from an inlaid Vengeance card.)
The results of the "J, K, I, L" letter prompts.

The letter prompts have to be typed within 3 seconds, from left to right, and there are 4 possible results each time:
Failed: when the player has not typed the right letters or any letters within the alloted time. This result gives no boost to the player's speed.
Qualified*
Excellent*
Perfect: when all letters have been typed in the right sequence within the alloted time. This result will boost the player's speed.

Editor's Note: The difference between the "Qualified" and "Excellent" results is unknown. It might depend on a % of correct letters (Example: getting 50%-74% of the letters right = Qualified, getting 75%-99% of the letters right = Excellent) or on a proportion of incorrect (red circles with an "X") vs correct typing (green circles). If anyone has done some extensive testing and can confirm the difference, please edit the section.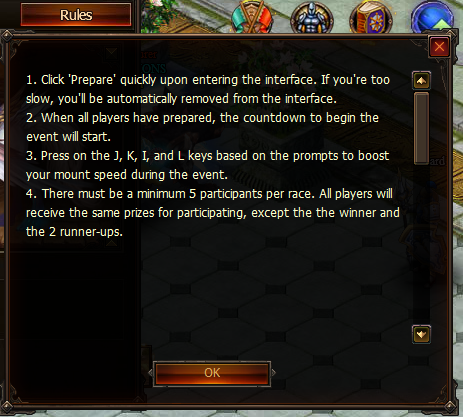 Prizes (Rewards)
Edit
The following prize packs are mailed to the players after the race.
Note that you don't necessarly have to wait until the speed scores are displayed to receive your prize; if you leave the area once you've crossed the finish line for example, the prize should still be mailed to you.
Ranking
Prize
Picture
1st Place

Gold Pack:

2x Glory Scroll (100) (=200 Battle Points)
4x EXP Scroll V (200,000 EXP)

2nd Place

Silver Pack:

1x Glory Scroll (100) (=100 Battle Points)
3x EXP Scroll V (= 150,000 EXP)

3rd Place

Bronze Pack:

50x Glory Scroll (1) (=50 Battle Points)
2x EXP Scroll V (=100,000 EXP).

All Others

Consolation Pack:

10x Glory Scroll (1) (=10 Battle Points)
1x EXP Scroll V (50,000 EXP)
Tips and Strategy
Edit
Since movement speed is important, ride a mount with the highest movement speed bonus and inlay your highest level Vengeance card to an accessory piece (rings or necklace). Keep in mind that a player with a 45% MS mount and a 5% Vengeance I card inlaid to an accessory has an even chance against player with a 50% MS mount and no inlaid Vengeance card, in terms of MS.
A trick that might be useful to some is to practise punching in the different keys (I, J, K, L) to remember their position a few seconds before you start racing. Try it!