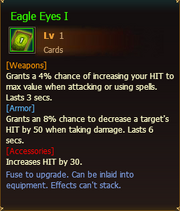 This Grade C card increases a character's HIT, decrease's a target's HIT or gives a permanent (static) boost to HIT according to the type of equipment is it inlaid to (Weapons, Armor or Accessories) and the Star Rank of the card (I to IX below).
Card Effects
Edit
[Weapons] : Grants a [A]% chance to increase your HIT to max value when attacking or using spells. Lasts [B] seconds.
[Armor] : Grants a 8% chance to decrease a target's HIT by [C] when taking damage. Lasts [D] seconds.
[Accessories] : Increases HIT by [E] (static boost).
Fuse to upgrade. Can be inlaid to equipment. Effects can't stack.
Effects by Star Rank
Edit
/

[Weapons]

[Armor]

[Accessories]

Star Rank

A
% 1
B
seconds
C
-HIT 2
D
seconds
E
+HIT 3
I
4
3
50
6
30
II
4.25
3.25
110
7
70
III
4.5
3.5
180
8
120
IV
4.75
3.75
260
9
180
V
5
4
350
10
250
VI
5.25
4.25
450
11
330
VII
5.5
4.5
560
12
420
VIII
5.75
4.75
680

13

520
IX
6
5
810
14
630