The Lucky Slots (otherwise known as "Lucky Roulette" or "Lucky Draw") interface can be accessed by c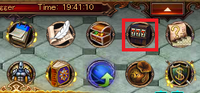 licking the roulette button at the top of the screen or by pressing hotkey "8".
You must be level 5 to spin.
Click GO to spin!
[Rules]
1. Gem Points will be issued after each turn based on the total matching Gems that appear after each spin.
2. When two of the same Gem appear, you will receive 2 Gem Points for the matching Gem type.
3. When all three Gems match, you will receive 10 Gem Points for the matching Gem type.
[Gems]
1. You will gain Gem Points for various Gem Types based on Gem combination.
2. Gem Points can be used to redeem special prizes.
3. Gem Points do not occupy Bag space.
[Spins]
1. You get one free spin daily.
2. Spinning the roulette will consume 1 Lucky Draw Coupon.
3. With cash, you can spin the roulette even after you have used your free daily spin and Lucky Draw Coupons.