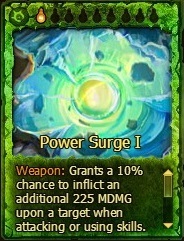 This Grade C card grants a 10% chance to inflicts MDMG upon a target whe attacking, using skills or taking damage or increases INT according to the equipment is it inlaid to and the Star Rank of the card (I to IX below).
Card Effects
Edit
[Weapons]: Grants a 10% chance to inflict an additional [A] MDMG upon a target when attacking or using skills.
[Armor]:Grants a 10% chance to inflict [B] MDMG upon your attacker when taking damage.
[Accessories]: Increase INT by [C] (static boost).
Fuse to upgrade. Can be inlaid to equipment. Effects can't stack.
Bonuses by Star Rank

Edit
Star Rank

[Weapons]


[A]
(MDMG)1

[Armor]


[B]
(MDMG)2

[Accessories]


[C]
(INT)3
I
225
180
35
II
III
855
IV
V
VI
VII
VIII
IX

Formulas
1 
2 
3