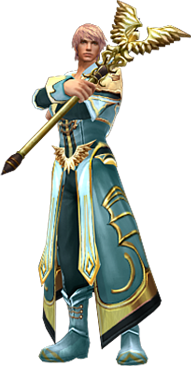 The Priest is able to amass vast amount of spiritual energy, the priest is an expert healer and can remove many debuffs. Able to specialize as a
Cleric
or
Inquisitor
as the game progresses.
Arguably the most important profession and the backbone of any team, priests are support professions that are responsible for healing allies.
Bestowed with both radiant & dark magic, priests are capable of both support and curse spells. Priests are a force to be reckoned with as they can deal severe damage over time.
Priest Skills

Edit
Mastery of the light and dark spells allows the Priest to deal huge amounts of damage to anyone within range over time as well as heal teammates. But unlike the other classes, the Priest isn't as durable.
Skills Summary
Edit
(Single-Target) Holy Flare - Default attack skill.
(Single-Target) Absolution - Regular single-target attack/single-target heal.
(Single-Target) Infusion - Single-target restoration/damage-over-time attack.
(Single-Target) Disintegrate - Powerful single-target attack that reduces target's damage value.
(AoE) Bestow - Continually heals nearby allies over time.
(AoE) Circle of Refuge - Summons a magic circle that deals continual damage to enemy targets while continually healing allied targets within.
(Buff) Blessing - Increases allies' Max HP.
Single-Target SkillsEdit
 Holy Flare 
Magical


Basic Priest attack.
Lv 1 (does not increase): Deals 40 MDMG +25% MATK.
MP Cost: 0 MP
Casting Time: none
Cooldown Time: 1 second
Casting Range: 550

 Absolution 
Magical
Cleanses the target of all sin.
Lv 10: Grants 165 HP +109% MDMG value of friendly targets but deals 255 MDMG +123% MDMG value to enemy targets.
MP Cost: 83 MP
Casting Time: 2 seconds
Cooldown Time: 1 second
Casting Range: 550

 Rune effects (available at skill level 10, each use consumes 1 runestone.) >>>

 Infuse 
Magical
Infuses magical energy within a target.
Lv 10: When targetting allies, restores 500 HP (+ 35% MATK) instantly and an additional 120 (+22% MATK) every 2 seconds for 12 seconds. When targeting enemies, deal 210 magic damage (+74% MATK) and an additional 125 magic damage (+39% MATK) every 2 seconds for 20 seconds.
MP Cost: 92 MP
Casting Time: none
Cooldown Time: 6 seconds
Casting Range: 550

 Rune effects (available at skill level 10, each use consumes 1 runestone.) >>>

Mystify
Take away the first damage/healing tick of the spell and the cooldown will be removed.

(Upon casting, begins no initial healing effect nor damage dealt but has no cooldown.)

Bloom

Increases the initial damage/healing effect, but the cooldown will be increased by 8 seconds.

(Subsequent damage/healing effects will be stacked with initial damage/healing effects resulting in a one-time effect. Increases cooldown by 8 seconds.)

| | | |
| --- | --- | --- |
| | Intensify | Increase heal/damage by 10%. |

 Disintegrate 
Magical
Turns a target into dust.
Lv 10: Deals 760 MDMG +132% MATK.
MP Cost: 115 MP
Casting Time:  none
Cooldown Time: 20 seconds
Casting Range: 550

 Rune effects (available at skill level 10, each use consumes 1 runestone.) >>>
Area of Effect SkillsEdit
 Bestow 
Magical
Lv 10: Emits 10 waves of healing energy, restoring ??? HP (+?% MATK) to all nearby allies.
Effect Duration: 5 seconds
MP Cost: ??? MP
Cooldown Time: 30 seconds
Casting Range: ???

 Rune effects (available at skill Lv 10, each use consumes 1 runestone.) >>>

 Circle of Refuge  
Magical
Maintains a magic circle in the target region for 10 seconds (at the position of the mouse cursor).
Lv 8: Restores ?? HP +??% MATK value to friendly targets in the circle every 2 seconds. Deals ??? MDMG +??% MATK value to enemy targets in the circle every 2 seconds.
Effect Duration: 10 seconds
MP Cost: ?? MP
Cooldown Time: 30 seconds
Casting Range: 550

 Rune effects (available at skill Lv 8, each use consumes 1 runestone.) >>>
Buff SkillsEdit
 Blessing 
Magical
Lv 10: Increases Max HP by ?,??? for 10 minutes
MP Cost: ?? MP
Cooldown Time: 1 second
Casting Range: 550

 Rune effects (available at skill Lv 10, each use consumes 1 runestone.) >>>