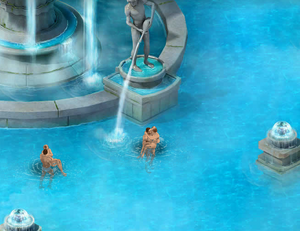 The Hot Springs can be accessed using a fragment of the Wings of Destiny.
Entering the Hot Springs (also known as the "Pure Lands" or "Land of Purity") will grant you continuous EXP and coins. 
Tip: When entering the Hot Springs, you can invite other players to join you (in a seance) and obtain even greater EXP and coin rewards!
You can enter through the Hot Springs Envoy ("Holy Emissary") in Forrester City.
Server Times: 14:30 - 15:00  &  21:30 - 22:00 (lasting 30 minutes)
Level: 25 - 110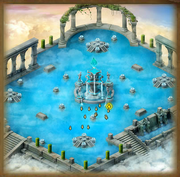 Tips and Strategy
Edit
A seance is between a male character and a female character. However, players who are STAR 5+ can also start a seance with a character of the same gender. Being in a seance allows you to receive approximately double the exp and coins.
If you plan to go Away From Keyboard (AFK), tick the "Always Accept Invites" box to automatically start a seance with a player inviting you while you are away.
If you want to cancel a seance and start another one with a different player for example, press the "Cancel" button.
If you want to exit the area, press the "Leave" button.
If you double click on players on the screen, you will auto-follow them whenever they move.
If you are having trouble fiinding a free player to start a seance, double-click on the "Land of Purity" text above your mini-map, at the top right corner of the screen. This will broadcast your location so that players can come to you.
This event is normally a good time to get to know other players on your server. It is recommended to use either "Channel" or "Area" chat setting to speak to all players. Have fun!