The Infernal City is a dungeon your character can enter at level 40 and above.
You can access this instance 5 times a day (or more, according to your STAR level.)
There are 3 bosses - Vlad , Elizabeta and Queen Delu .
Dungeon Details
Edit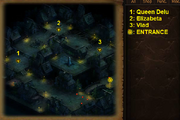 Description
Edit
The demons have shown the necromancers of the Hilda Empire the path to eternal life. These necromancers, looking to test this magic, built a necropolis.
Server Time
Edit
00:00-24:00 (at any time)
If you want to solo, talk to Madeline´s Ghost in the Holy Grounds area (x:29 y:186).
If you want to go with a group, you can open Team Finder and join an existing one or start your own.
Select one of 4 difficulties: Easy, Hard, Elite or Heroic.
(The Heroic difficulty is only available to level 70 characters and above.)
Knight Level 40
Edit
Black Rider's Set (Blueprint)

"

Fallen One's

 / Fallen" Items

Phantasm Items
Hunter Level 40
Edit
Black Wasp Carapace (Blueprint)
Fraudster

Items

Sniper Items
Mage Level 40
Edit
Spirit Dancer´s Beat (Blueprint)
Caster

Items

Illusionist Items
Priest Level 40
Edit
Spirit Summoner´s Attire (Blueprint)
Ludis'

 Items

Vampire Items
Level 45 Accessories
Edit
Meditator Pendant
Ring of Exile
Sapphire Necklace
Fraudster Ring
Lv 40 Materials
Edit
(used to craft Lv 40 set equipment)
Decayed Tooth (Grade D, white item)
Iron of Decay  (Grade D, white item)
Remains of the Dead (Grade D, white item)
Silent Breath (Grade D, white item)
Essence of Death (Grade B, blue item)
Heart of Defeat (Grade A, purple item)